Bunkmate Rubdown – Jaye Summers & Ziggy Star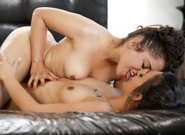 Ziggy Star catches her roommate Jaye Summers in the shower and hangs around to watch with a mischievous gleam in her eye. Jaye smiles and keeps on washing her sexy body. When Jaye passes by her bedroom wrapped in a towel Ziggy asks for help. She recently started a massage business and needs to practice on someone, just like they did as bunkmates at camp.
When Jaye asks why she's naked, Ziggy explains the massage medium is a gel that won't work with clothes. With a little prodding, Ziggy convinces Jaye to get onto the mattress-protected bed and lie down on her tummy. Ziggy straddles her bum and dollops a handful of NURU gel onto her back. She spreads it around till her body glistens all over. Then she coats her own tits and tummy with the sticky goo. With her legs spread and her pussy pressing against her ass, Ziggy glides along the length of Jaye's backside warming up her muscles.
Ziggy instructs her test subject to flip over and slathers more gel on her boobs. She resumes her gliding, arousing Jaye's pussy with her NURU technique. Jaye is especially stimulated when Ziggy massages her pussy with her tongue. She licks it all over and sucks on her clit until she makes her cum. Jaye wants to taste Ziggy so she buries her face in her bush. She flicks her pierced tongue on her clit till she orgasms in her mouth. After the lesbians 69, they take turns tribbing pussies till they both reach nirvana again!
Bunkmate Rubdown – Jaye Summers & Ziggy Star