Lingerie Show - Jenna J Ross & Summer Day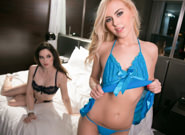 Beautiful blonde Summer Day watches her hot teen girlfriend Jenna J Ross try on sexy lingerie. She struts around the room sexily in her navy blue lace bra and panties. Then Summer models a gorgeous blue see through nighty. The lesbian girls get turned on by their lingerie show and start a heated petting session on the bed, ready to ravage each other's nubile teen bodies.
Jenna pulls out Summer's tits and hungrily sucks on her pink nipples, making them hard and sensitive. Then Summer removes Jenna's bra and sucks on her tits till her nipples are hard as candy. Jenna fingers Summer's shaved pussy over her blue panties and makes her dripping wet. She strips them off and crawls between her legs, but only licks her pussy once she removes her panties and sits on Summer's face.
Jenna looks so pretty with a mouthful of Summer's plump pussy, flicking her clit with her pierced tongue, making her cum. Jenna mounts her sexy teen girlfriend and tribs her vagina till the suction and friction makes her pussy explode with pleasure. Summer gets on top and grinds her pussy against Jenna's until the juice runs down her leg!
Lingerie Show - Jenna J Ross & Summer Day