Girlsway's Newest Crew Member - Lyra Law & Natalia Starr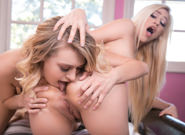 Production assistant Lyra Law really likes her new job working on porn sets. When Girlsway's newest crew member Natalia Starr arrives for her shoot, Lyra eagerly carries in her luggage. Watching Natalia and Ivy perform their lesbian sex scene on the sofa makes Lyra feel rather frisky, and she excuses herself to the second floor bedroom for a bit of self-inflicted pussy relief.
While Lyra is busily masturbating, Natalia walks in looking for the bathroom, wearing sexy lingerie. Lyra tries to conceal the truth about what she's doing, but Natalia sees right through her. And she's curious. Natalia comments suggestively that she's never met such a gorgeous PA before. Lyra tries to keep their exchange professional but she's clearly recovering from the orgasm that was building up. Starstruck by Natalia and embarrassed by the intrusion, Lyra acts awkward in her presence. But Natalia really wants to play, and no matter how much Lyra tries to ward off the sexy blonde nymphette, she will not relent!
Eventually, Natalia manages to get her hands down her pants. And once she stimulates Lyra's clit, the lesbian PA is much less able to fight her off. Lyra gives in to Natalia's attempts to take off her top, which is too constricting anyway. The two sexy blondes start messing around. Natalia peels off Lyra's panties and remarks on her resplendent bush. She eats her pussy, while she fingers herself. They try to keep the volume down to avoid being caught by the crew, but Lyra can't help yelling when Natalia inserts her finger into her tight pussy, and fucks her till she cums. Natalia rims Lyra's ass till she collapses. The starlet straddles Lyra's face and Lyra devours her clit, pinching her nipples and sucking her pink flesh. Then the lesbians pleasure each other simultaneously, sixty-nining till Lyra masterfully makes Natalia explode. Will Lyra get fired for fucking the talent? Click to find out!
Girlsway's Newest Crew Member - Lyra Law & Natalia Starr