Moving Day: Part One - Jenna Sativa & Nina North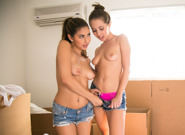 Jenna Sativa (India Summer) and Nina North (Eva Notty) have just moved into their third house together. As they unpack their belongings, they take pause to appreciate how far they've come. They laugh nostalgically about the day they met and their awkward first kiss. They reminisce about their first apartment and the first time they made love on moving day, how they couldn't keep their hands off each other back then, and still can't today...
Six months after they started dating, Nina and Jenna move into a two-bedroom apartment in Burbank. The girls can't wait to christen their new home so they tell the movers to take a lunch break. The instant they're alone, Jenna gropes Nina from behind. She grabs her ass, fondles her pussy and pulls of her top for a mouthful of her perky boobs.
It's clear that Nina's just as hot for Jenna as she peels off her shirt and kisses her sweet jujube nipples. They roll around on the blanket-wrapped furniture in pink thong underwear, rooting toward each other's vaginas. They slip off their panties and Nina spreads for Jenna who devours her pretty pink pussy, licking and sucking her clit till she cums.
Jenna perches her leg high in a standing split. Nina plants her mouth on Jenna's wet slit and gives her head till she erupts. They scissor their legs and kiss with their pussy lips. They gyrate their hips, tribbing wildly till Jenna orgasms. Then Jenna sticks her fingers in Nina's pussy and rubs another one out. Jenna lays Nina on her back and laps at her pussy till she cums again. It's easy to see from their chemistry, this love is meant to last!
Moving Day: Part One - Jenna Sativa & Nina North