Private Practice Massage – Eric Masterson & Summer Day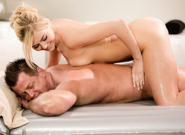 Client Eric Masterson books a NURU massage with the sexy blonde masseuse Summer Day. As a trained practitioner of osteopathic medicine, Eric is specialized in the physical manipulation of muscles. He has a hard time admitting he doesn't know about this particular treatment. At first his professional pride has him acting highfalutin. But he cools his heels when Summer slips off her black satin robe and reveals her dynamite body clad in red lingerie. Eric gets undressed and lies face down on the blow-up mattress. Summer cloaks him in the viscous NURU gel and gets on top of him fully naked.
With the weight of her body pressing against him, she relieves the pent-up tension in the muscles of back. He's surprised and impressed by the simple efficacity of her motions. And the softness of her skin sliding up and down the length of him is rather hypnotic. Summer successfully quiets the pretentious client. But when she turns him over, he eats his words. She swallows the whole of his cock, slurping on it with her wetting spit, bobbing her pretty head up and down.
She follows up with the piece de resistance, sliding on the front side of his body until his slippery dick pops inside her lubed-up pussy. She pumps her hips ecstatically and he grabs her by the waist and pummels her from underneath. She flips around in reverse cowgirl and he jabs her with fast long strokes until she cums. He keeps feeding her pussy with his cock, fucking her sideways till he can't take it anymore. He straddles her face and she milks his hard cock till he cums in her mouth!
Private Practice Massage – Eric Masterson & Summer Day