The Art of Lesbian Anal: Birthday Play - Maddy O'Reilly & Jayden Cole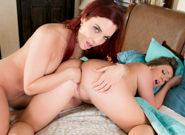 Maddy O'Reilly is lying on her girlfriend Jayden Cole's lap buck naked, her glistening ass covered in oil. Jayden is massaging Maddy's ass, lamenting how much she loves it and how sad she is that Maddy never let's her in there. When Jayden leaves for work, Maddy decides that anal play would be the perfect way to celebrate Jayden's birthday. It's the least she can do after their amazing year together.
When Jayden comes home from work, Maddy's on the bed wearing nothing but a helium balloon. She playfully offers her ass to Jayden and Jayden can't wait to finally feast on her bubble butt. She peels off her clothes and the lesbian couple begins to make out. They tease each other with kisses on their nipples, sucking gently till they stimulate the circulation down below.
Maddy treat her lover to tantalizing head, fucking her with her eyes while licking her pussy till she cums in her mouth. Then Jayden reciprocates licking Maddy until she cums. Maddy kicks off the anal birthday play, putting Jayden into position onto all fours and eating the birthday girl's ass till she howls with pleasure. Jayden returns the party favor, taking her hot girlfriend from behind. She licks her tight little butt and fills her asshole with as many fingers as she can fit, slowly fucking her ass to orgasm!
The Art of Lesbian Anal: Birthday Play - Maddy O'Reilly & Jayden Cole