Your Girlfriend Likes Me – Jasmine Jae & Ryan Ryder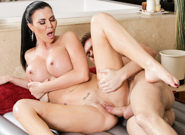 Ryan Ryder feels weird about getting massaged by Jasmine Jae, his buddy Eric Masterson's girlfriend. But Eric says it's fine, it's her job. Ryan continues to meddle, insisting it's weird because he gets the impression she likes him. Eric is sure it's all in his head. He keeps tabs on his girl and there's no way in hell she is cheating.
When Eric brags that he steps out on her, Jasmine is listening at the door, and boy is she pissed! Eric leaves to meet one of his hook ups, so Jae plays into Ryan's suspicions. The sexy Brit admits she has the hots for him and offers to upgrade his massage on the house.
She takes off her robe and blows his mind with the size of her knockers. His cock's already hard when his pants come down and she strokes him all the way into the showers. After he soaps up her tight body, she cups his heavy balls and blows him with her fuck me lips, thoroughly impressed with the size of his dick.
She gives him a moment to relax on the mat while she covers him in the NURU gel. It drips down her fingers in thick viscous threads. Then she grinds her naked pussy onto his backside.
She turns him over and gives him a view of her glistening pussy, followed by a slippery tit fuck. She rides his cock before he enters her sideways for an extra tight fit. He eats her ass then fucks her from her behind, pulling out to cum all over her massive tits! But he's still balls deep in betraying a friend who deserves it!
Your Girlfriend Likes Me – Jasmine Jae & Ryan Ryder